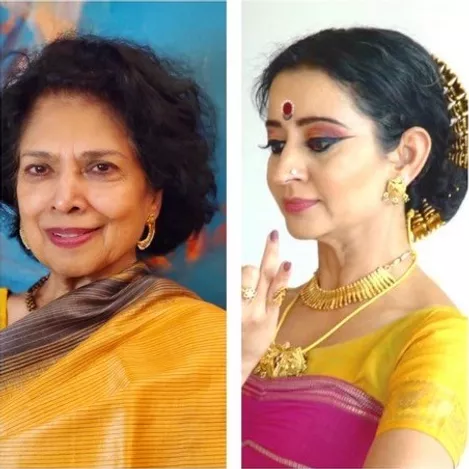 Maya Kulkarni & Sonali Skandan:

Described by NYT as a "Dancer's dancer," choreographer Maya Kulkarni is a well-known figure in the Indian dance world. She has evolved a new style of classical dance performance, named "Shilpa Natanam" (Dancing sculptures), which adheres to the rules of classical aesthetics but breaks boundaries in expressive techniques and thematic material. She has choreographed Ardhanari Nateswara (marriage of the god Siva), Plato's Allegory of the Cave, Medea, Yakishini (reproducing the temple architecture of an 11th-century tantric temple in Orissa), Sayankale, and Tridha to name a few. These pieces are currently being performed by US-based dancers trained in Indian Classical Dance.

​​​​​​​Sonali Skandan is a Bharatanatyam artist (choreographer, performer, teacher) and founder/Artistic Director of Jiva Performing Arts and Jiva Dance. Sonali has performed globally to much critical acclaim including at Lincoln Center, Merce Cunningham, Joyce/SoHo, The New Victory Theatre, and Queens Museum of Art in NYC. Sonali's original work is based in classical Bharatanatyam and influenced by studying other dance forms and growing up as a first-generation immigrant in NYC. She has trained with leading masters—CV Chandrasekhar and Bragha Bessell of India—and continues exploring new and innovative themes and synergies in her dances along with collaborations with noted choreographer Maya Kulkarni.​​​​​​​