Workspace Program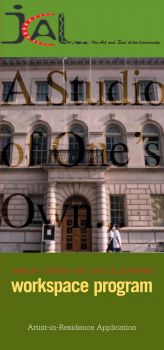 Jamaica Center for Arts & Learning (JCAL) is dedicated to encouraging public participation in the arts and contributing to the cultural enrichment of Queens and the greater metropolitan area through its visual, performing and literary arts, arts education and artist programs.
JCAL's Workspace Program is tailored to support an artist in his/her creation and presentation of new works. Through the program, JCAL provides an emerging artist with a private, 750-square-foot, non-living studio space and access to JCAL's office and studio facilities (computer, ceramics and painting) for a period of 12 months. The artist may be offered an opportunity to exhibit his/her work in JCAL's gallery at the conclusion of residency.
The secure, private studio is located on JCAL's third floor. It features three large windows with northern light exposure, track lighting, storage space, wall spaces for large-scale paintings and blackout shades for photography or projection. Lavatory facilities and a telephone are in close proximity. The resident artist has access to the studio Monday-Saturday during JCAL's hours of operation. Operation hours are subject to change. The resident artist is encouraged to engage in conversations with JCAL visitors and art professionals through open studios, slide talks, workshops and gallery talks. The residency starts July 1 every year and concludes June 30 of the following year.
JCAL-KCSNY Workspace Artist 2012-13